Date: September 2021

Our work is featured on the cover of Journal of Rheology - Volume 65, Issue 5! About the cover: Cellulose nanocrystals (CNCs) in water self-assemble into liquid crystalline orders that create beautiful patterns when observed through polarized light imaging. The cover images represent space-time visualizations of the birefringence patterns observed during shear hysteresis loop tests through combined rheology - polarized light imaging of CNC water suspensions. 4-5 wt% are biphasic CNC suspensions while 6-8 wt% are liquid crystalline.
Read our Journal of Rheology article on the thixotropy of cellulose nanocrystal suspensions here while the cover can be downloaded from here.
Date: July 2021

Our work is featured on the supplementary cover of ACS Nano - Volume 15, Issue 5! About the cover: Cellulose nanocrystals (CNCs) are 1D lyotropic nanoparticles that form a liquid-crystalline phases in water. This photo shows alignment of CNCs in a suspension, visualized by shear induced polarized light imaging combined with rheological characterization. It is one of the hyphenated rheological techniques for CNC characterization we discuss in this review.
To download the ACS Nano cover click here and to read the review article click here.
Date: March 2021

Antibacterial surfaces created in our lab can prevent infections killing 99.9999% of bacteria which try to attach, a 10 000-fold improvement over the previous benchmark. The surfaces are based on graphite nanoplatelets embedded in polyethylene, a cheap and viable potential solution to a problem which affects millions, costs huge amounts of time and money, and accelerates antibiotic resistance. The graphite nanoplatelets pierce and damage the cell membrane, killing the bacteria, see the illustration above. The key it to control the morphology of the nanocomposite through processing flows.
Read our Small article here.
Other press releases: ScienceDaily, New Atlas, AZO Nano, The Medical News, Silicon Republic, Engineers Online, Nanowerk, My News Desk, Forskning.se, EurekAlert!, Phys.org, etc.
Illustration: Yen Strandqvist.
Date: August 2020
The new board of the Nordic Rheology Society (see photo below) was voted in at the annual business meeting of the society, in conjunction with NRC 2022. The mandate is for a four year term, between 2020-2024.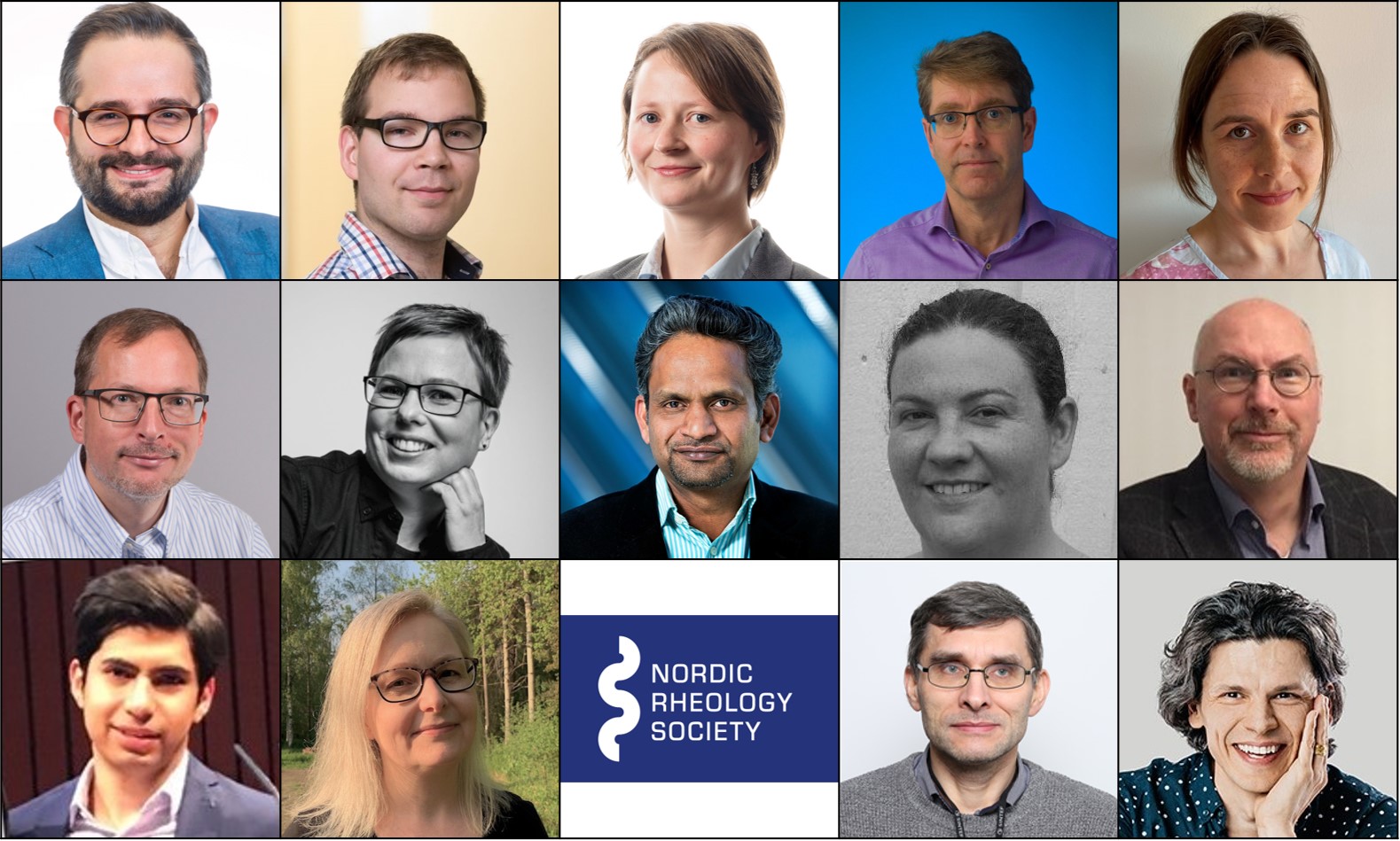 Date: Jan 2020

In a cooperation project between Chalmers and MAX IV we will develop a new rheometer system as sample environment for the synchrotron facility at MAX IV. Our aim is to develop a few niche world-first rheological testing techniques for the CoSAXS and ForMAX beamlines.
Other press releases: Big Science Sweden
Almost as usual. Due to the ongoing pandemic…
… the Annual European Rheology Conference 2021 (AERC 2021) was held in the metaverse where participants met as customized avatars. Avatars could then walk around in the conference center and interact with colleagues almost like in real life. The conference was unique in two respects: (i) it was the first AERC held in Cyberspace and (ii) for the first time in the history of the European Society of Rheology (ESR) the organizing committee of an AERC was composed of pan-European volunteers.
More than 500 participants from 38 countries took part in the unique rheology event.
Conference chair: Roland Kádár (Chalmers, Sweden) Conference co-chair: Mats Stading (RISE, Sweden); Conference secretary: Olli-Ville Laukkanen (RWTH Aachen, Germany)
Organizing commmittee: Peter Fischer (ETH Zürich, Switzerland), Alexandra Aulova (University of Lubljana, Slovenia), Maria Teresa Cidade (Universidade NOVA de Lisboa, Portugal), George Petekidis (University of Crete IESL-FORTH, Greece), Johanna Andersson (RISE, Sweden), Christian Clasen (KU Leuven, Belgium), Jan Engmann (Nestlé Research, Switzerland), Anke Lindner (ESPCI and Paris University, France), Mario Minale (Università della Campania "Luigi Vanvitelli", Italy), Daphne Weihs (Technion-Israel Institute of Technology, Israel).
Invited speakers: Sébastien Manneville (Ecole Normale Supérieure de Lyon/CNRS, France), Veronique Trappe (University of Fribourg, Switzerland), Michel Cloitre (Weissenberg awardee, CNRS, France)
Gold Sponsors: Anton Paar, TA Instruments
Silver Sponsors: Physics of Fluids, Nestlé, Tetra Pak, ThermoFisher Scientific
In a time when the covid-19 pandemic threatens all scientific meetings…
… we found a way to bring people together in a unique environment. In a first of its kind in the rheology world, the conference was held in the metaverse, where participants could customize a look-alike avatar and interact with other participants in a well designed virtual world.
Conference chair: Mats Stading Conference co-chair: Roland Kádár;
Organizing committee: Jessica Twedmark, Johanna Andersson, Simon Ingelsten
Invited speakers: Natalie Germann (Technical University of Munich, Germany), Daniel Read (University of Leeds, UK)
Gold Sponsors: BillerudKorsnäs, Chalmers Area of Advance Materials Science, RISE Research Institutes of Sweden, The Research Council Formas, Gothenburg City
Silver Sponsors: Tetra Pak
Bronze Sponsors: TA Instruments, Lantmännen, Anton Paar, Rheo Filament, Coloplast
An international success: 125 participants from 17 nations enjoyed the event hosted at Chalmers University of Technology, Gothenburg, Sweden.
Conference chair: Roland Kádár; Conference co-chair: Mats Stading;
Organizing committee: Jessica Twedmark, Patricia Lopez Sanchez, Anna Ström, Carina Schultz and Agne Swerin
Invited speakers: Gareth McKinley (MIT, USA), Paula Moldenaers (KU Leuven, Belgium), Alaind Dufresne (Grenoble INP, France), Daniel Söderberg (KTH, Sweden)
Gold Sponsors: BillerudKorsnäs, Chalmers Area of Advanec Materials Science, RISE Research Institutes of Sweden, The Research Council Formas, Gothenburg City
Silver Sponsors: Tetra Pak
Bronze Sponsors: TA Instruments, Lantmännen, Anton Paar, Rheo Filament, Coloplast